MASKBOOK 
Maskbook is an international, participatory and artistic project by the association Art of Change 21.
Launched in 2015 on the occasion of COP21, Maskbook aims to raise public awareness on air pollution and climate change. With Maskbook, the anti-pollution mask is a symbol of pollution, a means of action and a canvas for creation. The anxiety-provoking image of the anti-pollution mask is transformed into an expression of optimism and commitment to the planet.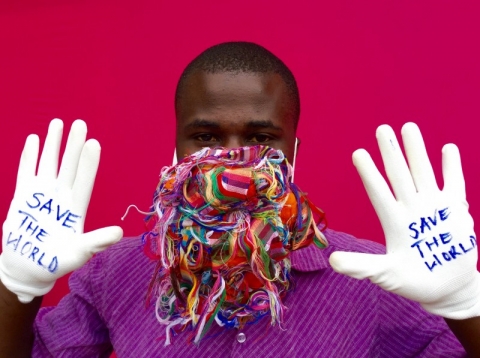 Maskbook is truly a collective and engaged work of art, made up of masked portraits from around the world. The portrait gallery on maskbook.org already has more than 2,500 masked portraits of participants from over 40 countries around the world.
Each mask is a personal creation, made from recycled materials or made digitally. Each mask-creation is unique because it communicates its creator's message in the face of the environmental crisis.
Collective art-action project, Maskbook works both offline, online, and around the world through an international program of workshops and exhibitions as well as through a mobile app.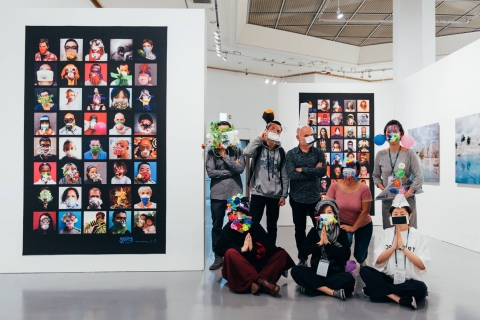 Maskbook workshops bring together thousands of participants around the world. Nearly 100 workshops have been organized in more than 20 countries around the world, from Ecuador, to South Korea, China, Kenya, Germany, India, Belgium, and France ...
The Maskbook workshop not only provides the opportunity to practice the circular economy firsthand, but also, more globally, to offers a chance to take a first step for the environment, through committed creativity.
80% of Maskbook participants say they are more optimistic about citizens' ability to solve the environmental crisis. 70% of respondents said that Maskbook had favorably influenced their behavior in regards to the environment and favored, in one way or another, an "ecogest".
Maskbook is a universal project, inclusive and accessible to all. The mask exists in all countries and resonates in all cultures around the world: from Paris to the Kangemi slum in Nairobi, from the boats of the nomadic Badjaos of Borneo to the city-dwellers of Shanghai, from Pokhora, Nepal to Quito, Ecuador, the Maskbook experience allows each participant to speak their truth and to rediscover the pleasure of creating with one's own hands.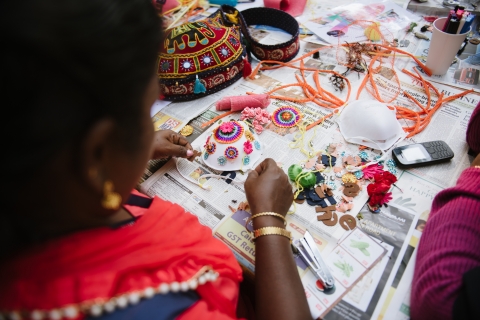 Maskbook relies on a global network of partners in the fields of the environment, education, and art, as well as the Masktivist network, a growing, international community of Maskbook workshop organizers.
Mask-Trotter, the new, more mobile Maskbook initiative with an extra human touch, launched in 2017, is gaining steam in 2018. Mask-Trotter is a project that renders the Maskbook project even more nomadic and inclusive. Globetrotters and adventurers, en route to remote locations, propose individual Maskbook workshops to locals they meet along the way.  These Maskbook encounters promote an intercultural dialogue on climate change and air pollution. With the Mask-Trotter initiative, Maskbook also aspires to develop numerous collaborations with the native peoples, and is already collaborating with the famous photographer Pierre de Vallombreuse, patron of Mask-Trotter.
Supported since 2016 by the UN Environment (United Nations Environment Program) and since 2015 by the Schneider Electric Foundation, Maskbook has been labeled COP21 and COP22 and is sponsored by the French Ministry of Culture.
Get involved
Individually, collectively, via special events or during your travels, there are many ways to participate in Maskbook!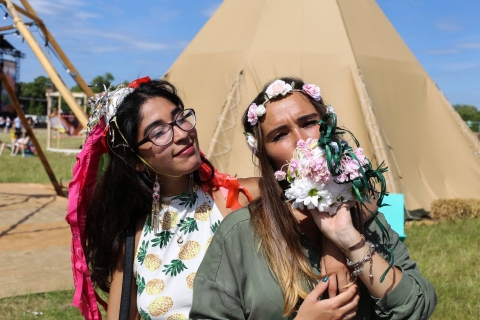 First step: Join the Movement, Enter the Gallery
Join the world's leading environmentalists, artists and committed citizens in the Maskbook portrait gallery.
All you have to do is make a mask creatively and ecologically, with your own hands, using recycled waste or even via digital creation. Then take a picture of yourself wearing the mask!
Second step: Organize a Workshop
Share this fun and communal moment that allows everyone to get involved in the fight to protect our environment and explore the link between art and sustainable development using DIY and creativity. A Maskbook workshop is easily adapted to many different settings and the ingredients are easy to find: they are your waste! Look here for more information.
Third step: Become a Partner, Join our Team, or Bring your Financial Support!
The adventure has only just begun!
Follow our news, our agenda and most of all, get involved!
A PROJECT BORN DURING THE CONCLAVE OF ART OF CHANGE 21
Maskbook was born during the Conclave of Art of Change 21, an international meeting of eco-creation, that took place at the Gaîté Lyrique in Paris in 2014, just ahead of the COP21.
This Conclave brought together 21 artists, social entrepreneurs and youth involved in the ecological transition.
Chinese artist and photographer Wen Fang, member of the first Conclave of Art of Change 21 in 2014 and personally affected by the air pollution crisis, humorously thought of the idea for the project: "In China we do not have Facebook, but since we are all wearing masks to protect us against pollution, if we had it, Facebook would be renamed Maskbook!"
Wen Fang still plays a major role in the project: she regularly hosts Maskbook workshops throughout Asia.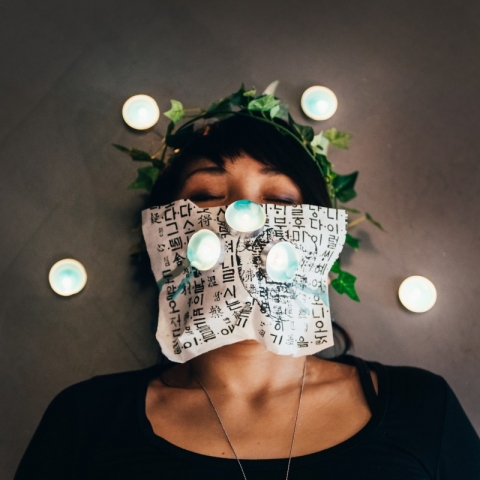 Presentation document
Download the presentation document HERE