03.23.2017
Our first Masktrotter, Marie, brings Maskbook to Bhutan
"Masktrotter" is a new component of the Maskbook project that allows citizens to act for the environment during their travels. A Masktrotter is a globetrotter who brings a Maskbook kit in their suitcase. During their travels, the Masktrotter encourages the locals and fellow travelers they meet to participate in Maskbook, guiding them through the process, and engaging in an intercultural dialogue on health, climate and pollution.
Marie Pierre, a lecturer-researcher, lawyer, painter, and native of Toulouse, committed to sustainable development, is the first Masktrotter and brought Maskbook to Bhutan during her most recent world trip.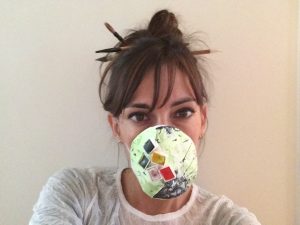 Our first Masktrotter, Marie.
It was in Thimphu that Marie first discovered the Bhutanese respect for the environment. In this country where Buddhism reigns and ecological consciousness is strong, attachment to nature transcends all facets of life, down to the garbage, which is carefully sorted in the city and not found in the streets or in nature.
Marie found that many Bhutanese already wear masks to protect themselves from dust (often on roads without asphalt) and from the cold when in high altitudes. Despite the language barrier, the Bhutanese inhabitants she met willingly and enthusiastically participated in Maskbook.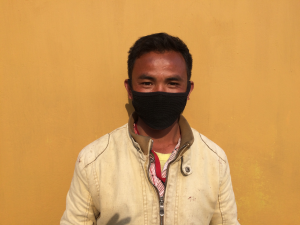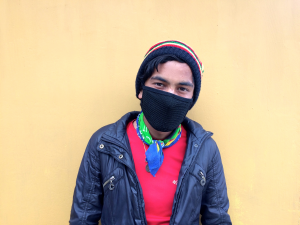 Young men with their own black cotton masks. 
Marie found that the Bhutanese had a strong sense of awareness  on the importance of the preservation of nature and the health effects of air pollution. First-hand witnesses of climate-change, they have seen glaciers melt into lakes in their own country... 
After a dozen Maskbook inspired meetings, she had a particularly serendipitous encounter with Migma. The road blocked an unexpected and rare snowstorm, Marie and Migma took refuge in a cafe where they were able to exchange about the concept of Masktrotters, while warming up around a wood stove.
Marie and Migma, then Migma with her mask created from prayer flags. 
After trekking through the mountains and monasteries and many Masktrotter meetings, Marie has already booked her next trip to Indonesia ... to be continued!
View the Facebook album of Marie's trip to Bhutan.
Contact us to become our next Masktrotter.