06.14.2017
Maskbook was a wild success at the We Love Green Festival, one of the biggest eco-festivals in Europe, on Sunday, June 11th, 2017. 
From 3pm to 6pm, young and creative festival goers created masks at the Maskbook stand, in a sunny and summery atmosphere, set to the the sounds of Amadou & Mariam.
The ingredients for the workshop were locally sourced and festival related — Maskbook's team recovered scraps of material like bits of wood, colored paper and fabrics, that came from the construction of the festival's scenography.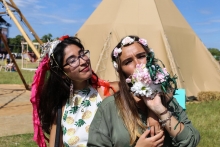 Discover the photos of the workshop on Art of Change 21's Facebook page.