12.15.2017
MASKBOOK IN INDIA, TRAVEL DIARY DAY 1, in Bangalore with Wastecraft
From the 15th to the 28th of Dec, Maskbook is in India with an amazing program of 5 workshops and exhibitionsin Bengaluru and New Delhi. (Check out the program here, and in the agenda.) Erica, Marguerite and Aditi,  members of Art of Change 21 team, share their experience through their travel diary in which they will share their best moments, talk about upcycling, air pollution, creativity and art in India.
It's our first day in Bangalore, India for our Maskbook in India workshop series and our first stop was meeting up with Wastecraft, a project partner who is supplying the electronic waste ingredients for the DIY mask-creation workshops. 
WasteCraft is a not-for-profit enterprise striving to create sustainable solutions that support other sustainable projects. Not only do they upcycle e-waste to create utility for value, but they are also focusing on generating awareness and implementing e-waste management practices for all. 
As we enter into the Wastecraft location, we are warmly greeted by Melroy, who handles e-waste pick-ups in Bangalore, Project Head Neha, and a cup of chai. 
Wastecraft collects electronic waste from anywhere in Bangalore, for free. The goal of the collect of e-waste is to fund Batti, an initiative to provide solar-powered home-lighting systems to remote, off grid villages in North East India. Batti has already reached 270 homes and lighted up the lives of 1300 people in Arunachal Pradesh. 
The collected waste is of course recycled with registered e-waste processors. Now, Wastecraft is also getting craftier. Working with quality artists and upcyclers, they create products ranging from stationary to bedside lamps, from earrings to clocks, wall art and elaborate costumes. The net revenue of both the registered recycling and the e-waste creations benefit Batti.
After discussing the specifics about types of ingredients we use for a Maskbook workshop, Neha and Melroy let us peruse their collection of upcycled creations. Earrings made with a computer processing chip in place of a jeweled bead, small notebooks bound by cassette tapes, lamps made out of old telephones, a clock of CDs and a costume, complete with headpiece and fake blades modeled after Alien vs. Predator … the possibilities are endless!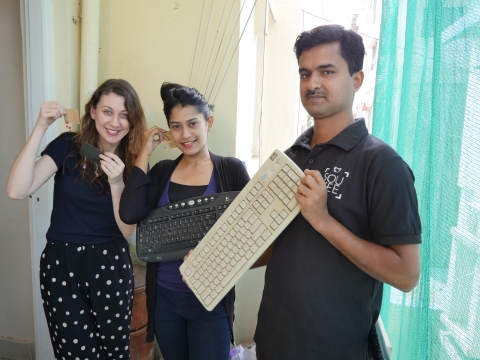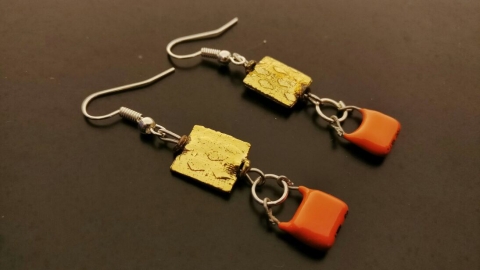 The team at Wastecraft, alongside artists, ensure every part of the dead device is either upcycled for use, or is treated ethically to cause minimal damage to the environment.
For more info, check out Wastecraft.in 
Stay up to date with our Maskbook in India travel on Facebook and Twitter