12.18.2017
Maskbook in India, Travel Diary Day 5, in New Delhi with Swechha
From the 15th to the 28th of Dec, Maskbook is in India with an amazing program of 5 workshops and exhibitions in Bengaluru and New Delhi. (Check out the program here, and in the agenda.) Erica, Marguerite and Aditi,  members of Art of Change 21 team, share their experience through their travel diary in which they will share their best moments, talk about upcycling, air pollution, creativity and art in India.
Even through we are leaving the festival excitement behind and jumping headfirst into the most polluted city in India, we are thrilled to catch-up with Aditi in her hometown and to meet with Sarthak and Ashim, School Programs Coordinators from Swechha. Over the next two days, we will be collaborating with them to organize Maskbook workshops both with children from Swechha's informal school Pagdandi, and children from the Indian and Foundation schools.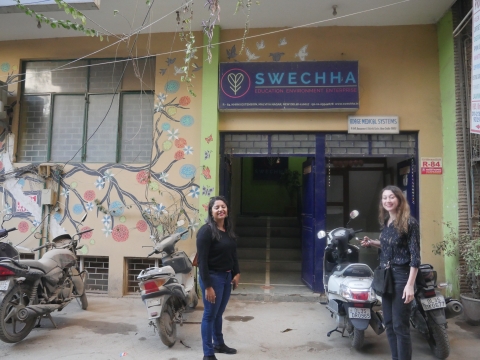 Pulling up to the Swechha office, we are first greeted by the sounds of children from the Pagdandi school happily chattering. As we peak through the classroom they give us a resounding "HI!". Up the stairs, we discover that the office is full of upcycled creations, from a Diet Coke can chandelier to a plant made of bicycle parts and tires.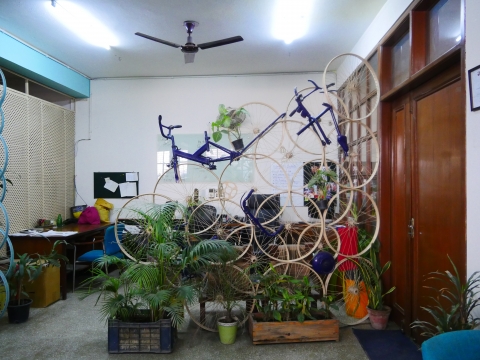 We then headed to the rooftop terrace, filled with edible plants and vegetation, lawn chairs made of car seats and tables made of tires, where we sat down with a cup of chai to discuss our upcoming workshops and have a chat with the Swechha team.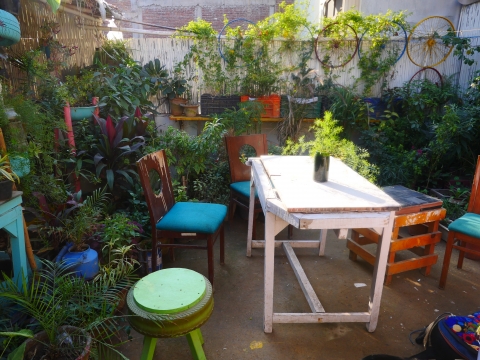 Swechha is a New Delhi based youth-led organisation dedicated to enabling change-makers and enacting change for a sustainable society. They focus on education, environment and entreprise, running a number of programs that sensitize and empower youth.
Their environment programmes include educational curriculums and hands-on activities on subjects like water and air pollution but also special programmes like Monsoon Wooding, crowdfunded campaigns that fund plantations with the goal of creating native forests that will cleanse the air of toxins and carbon dioxide, mainly done in the empty spaces of government schools.
Their initiative the Pagdandi school, which is open to children ages 6 to 18, introduces art as a vector through which students can become empowered to take on issues of deep impact. Through experimental and co-curricular learning, students can explore topics like gender through the lens of an art form like theater. 
Knowledge, experience and action is the motto by which they work. A film screening on waste will be accompanied by a first-hand experience like a landfill walk. Then they encourage students to  set up their own plan of action, whether it be setting up a campaign in their school or taking part in voluntary environmental programs.
Now, they support themselves through Green the Map, India's largest fair trade upcycling collective and their newest plan is to create a workshop space within Swechha where everyone can come to learn and create via upcycling.
More info at swechha.in
Stay up to date with our Maskbook in India travel on Facebook and Twitter