12.30.2017
MASKBOOK IN INDIA, TRAVEL DIARY DAY 15, Jagriti Yatra and #MaskbookinIndia recap
From the 15th to the 28th of Dec, Maskbook is in India with an amazing program of 6 workshops and exhibitions in Bengaluru and New Delhi. (Check out the program here, and in the agenda.) Erica, Marguerite and Aditi, members of Art of Change 21 team, share their experience through their travel diary in which they will share their best moments, talk about upcycling, air pollution, creativity and art in India.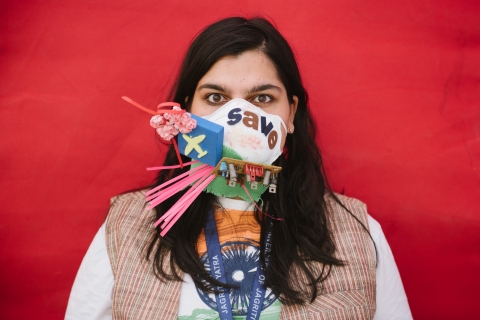 Last Tuesday, we were back to the traffic-filled streets of Bengaluru to prepare for Maskbook's biggest workshop yet, with the 2017 participants of the Jagriti Yatra. 
Jagriti Yatra is an annual 15 day train journey that brings together 500 youth from across India who are selected for their change-making ambitions and potential. During the journey that traverses the nation, youth meet role model social and business entrepreneurs who are developing unique solutions to India's developmental challenges.
To prepare for the giant workshop, we had to do some last minute ingredient-collecting, which resulted in us visiting some local waste pickers. Waste picking exists in many places all over the world, and is a way in which people can earn a living by collecting, sorting, recycling and selling waste. Today waste pickers have a little more recognition about what they contribute to the economy and to the environment despite still receiving little support and persisting through indecent working conditions.
We visited the modest entreprise of Sri Balaji, where we picked up cans of Coca-Cola, stacks of newspaper packed in 10 kilogram bundles, and many more odds and ends like broken goggles, expired eyeliner, cardboard boxes.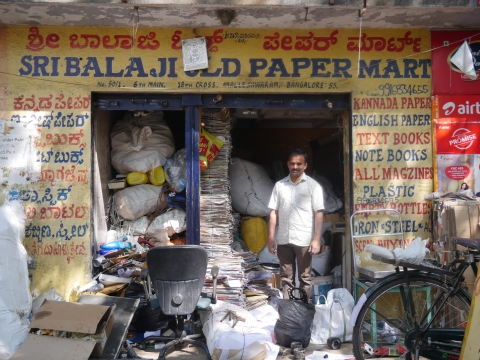 Waste-collection shops and centers dot the city, from individual and modest entreprises like that of Sri Balaji to organizations that not only facilitate waste collection centers but support waste pickers themselves. Hasiru Dala, whom we partnered with to collect mask-making ingredients for the Bengaluru workshops, is one of these organizations that, in addition to collecting waste and employing waste pickers, aims to improve the living conditions and livelihood of people who are often discriminated against and suffer many occupational hazards.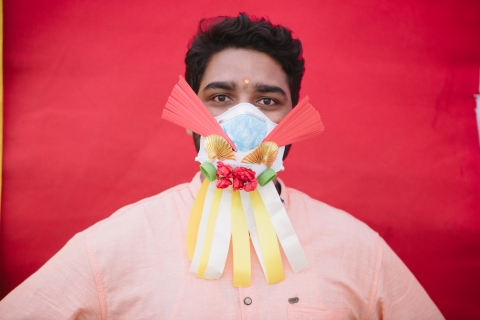 The morning of Thursday, December 28th, the day of the workshop, while perusing the paper over breakfast, we came across an article in The Times of India that reported the Karnataka State Pollution Control Board's alarming findings on air pollution. According to the KSPCB, PM10 and PM2.5 levels in Bengaluru were far from permissible. Emissions from motor vehicles, not surprisingly, is one of the main contributors to the air pollution (42%) in the city, while construction, industry and domestic use are amongst the other culprits.
Armed with this knowledge of air pollution and the day's agenda of collaborating with some seriously motivated youth, Maskbook arrived at the Jagriti Entreprise Mela program at the Indian Institute of Science. Just before lunch, Maskbook's India team presented the project to the 500+ participants and participating individuals and organizations in the J.N. Tata Auditorium followed by the giant workshop that, thanks to the Yatris, was overflowing with energy, creativity and a strong and perceptible desire to enact change.
From Facebook live to pointed interview questions, with mask-making beginning immediately upon arrival and lasting until the Jagriti buses left, the Maskbook team had no dull moments; the workshop was a success. Some Yatris are even taking the experience to the next, entrepreneurial level, studying the project's business model and investigating future possibilities to replicate the experience throughout India! With an alumni that boasts 45 new entreprises created each year, we are thrilled to learn of the Yatri's Maskbook study and can't wait to hear their feedback...
As the Maskbook in India program and the year drew to an end, we looked back on the busy two weeks that were filled with amazing encounters with organizations across India that are successfully creating change for the environment, whether it be initiating the public to environmental issues through art or via upcycling waste, creating a structure that supports recycling and sustainability, educating youth on environmental issues or promoting future generations to develop solutions.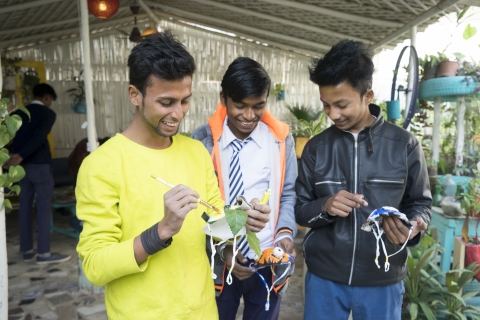 From spending a few days in Delhi, air pollution as we know it was  transformed from an intangible problem into one that is seen and felt. A new Unicef report has stated that high levels of air pollution can cause neuroinflammation, damaging cognitive development in young children. The future generations, like the bright and buzzing youth of the Pagdandi, Indian and Foundation schools are in danger, and so are the rest of us. If air pollution is left unchecked, places like Bengaluru, that have previously been spared the plight of poor air quality, will no longer be a refuge.
Leaving India, we are so proud and honored to have collaborated with the amazing people and initiatives of Jaaga, Swechha, Jagriti Yatra, Hasiru Dala and Wastecraft. Moving forward, we are even more determined to bring creativity to the forefront in the ecological transition and to work with across countries and cultures to bring about the clean and green world in which we want to live.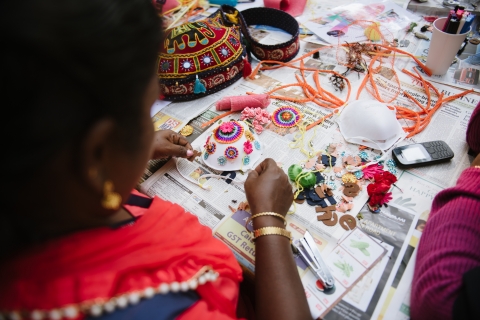 Check out the Facebook album for more photos of the workshops in India. 
Maskbook in India was supported by the Schneider Electric Foundation.